Imagine the possibilities of a print partner who can help elevate your brand with custom packaging. We are more than a printer. We're a marketing partner. And we've got a marketing package for you.
We produce a wide variety of standardized packaging: like tuck boxes, gift boxes, point of purchase displays, and tote boxes. We even custom design for packaging that's far from ordinary. From our high-end promotional custom packaging to our economically-priced standardized packaging, every package provides you with form, function, and a terrific branding opportunity!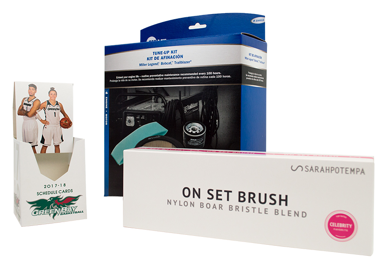 What makes us different?
Our dedicated team of printing and branding experts ready to assist throughout the entire process, from initial consultation to delivery
Prototype services
Paperboard and e-flute options available
UV inks and coatings (up to 8-color print techniques)
Enhanced finishing techniques
Multi-level and sculptured embossing
Foil effects
Die-cutting
Lamination
Color consistency guaranteed to match your brand (G7 Color Master Certified)
All work completed done in-house
Additional services: kitting, fulfillment
Box Styles
We offer a team of printing and branding experts who are ready to assist throughout the entire process, from initial consultation to delivery of your next packaging project. To get you started, check out a sampling of box styles we have available. *Bottom styles available include 1-2-3 Bottom, Tuck Bottom and Auto Bottom.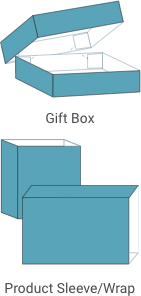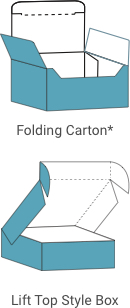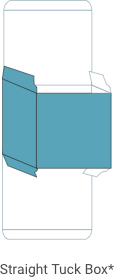 Packaging Materials
Paperboard: Generally speaking, paperboard is the same thing as paper. However, it is generally thicker (usually 12pt or 0.012″ in thickness or more). Because it's both lightweight and strong, it's easily cut and formed—perfect to use in packaging products. Learn more here.
E-Flute: The most common paper-based material in promotional packaging is corrugate material. Corrugate provides extraordinary strength for the weight due to the column and arch construction created through the fluted inner layer combined with the flat linerboard. Different flute sizes provide different properties to the board and to the finished box. We use a thin, but sturdy, e-flute material for many of our packaging solutions.
Standard features for e-flute packaging:
1/16″ thick
High-quality print surface
Available in Kraft and White colors
Quantities from 1-250
Customizable with variable data printing
4-color process printing
One- and two-sided printing available

Standard US Corrugated Flute Data
Flute Designation
E flute
Flutes per linear foot
90 +/- 4
Flute thickness (in)
1/16
Flutes per linear meter
295 +/- 13