It's your product and your brand—we provide the space and the staff to fulfill your orders—it's simple! Independent Printing & Packaging offers a series of fulfillment services to choose from. One is sure to fit your needs.
Enjoy a user-friendly, comprehensive warehouse management system. With radio frequency (RF) technology, you're privy to accurate, timely inventory information whenever you need it.
At Independent Printing & Packaging, we're fulfillment services experts, and have been for years. Customers count on us to have solutions that connect your product to B2C and B2B channels across the country safely, consistently and on time. We also provide real-time tracking and access to your inventory 24/7 through an easy-to-use portal.
Capabilities
Our dedicated warehouse and fulfillment services staff operates a 475,000 cubic foot Distribution Center adjacent to our main facility.
We are strategically located in the Midwest for efficient shipping and logistics.
Print-on-Demand (POD) services save you expensive storage fees. Get it when you need to use it with our quick-turn order process.
With our fulfillment services system you have the power!
Enter your own order/shipping information
Make quick inquiries about your inventory
Track order placement (who/when/how much)
Generate timely reports with comprehensive and accurate info on your products
Inventory Management
Dedicated warehouse specialists utilize RF technology and hand-held inventory computers to provide accurate kitting and pick/ship processing. Orders ship within 24-48 hours from our mid-western centralized location, and are processed through an easy-to-use portal with customer-facing access.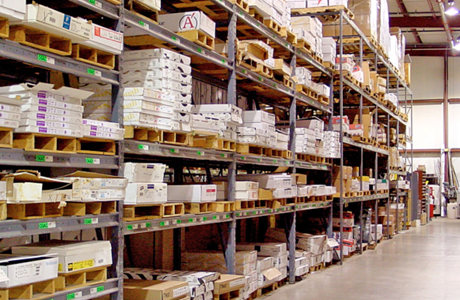 ExpressLane
Combine our web-based print-on-demand and fulfillment services to create additional efficiencies.