Presentation Printing
---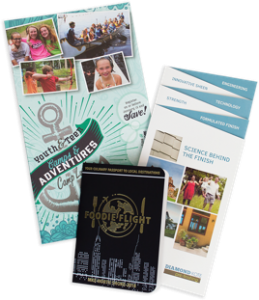 Independent Printing & Packaging ranks in the top one percent of all printing operations in the nation. We produce high quality, award winning work. With a broad range of services and our consultative approach, we are experts at printing presentation materials. Printed conventional offset or digitally, with expert finishing touches like unique foil stamping, embossing and customized die-cutting, we're experts at producing all types of presentation printing items. Take a peek at our Print & Finishing capabilities.
Convenience
We're right in your back yard—or nimble enough to get there! You can trust our Business Development Managers to listen to and understand your needs and help you define the project expectations. They're part of a larger team that work cohesively to deliver on-time, on-budget, with the highest quality standards.
Design Services
Let us help you with the creative components as well as presentation printing. Our on-site graphic specialists offer color/ink support, design recommendations as well as helping you get the most out of the production process. Presentation printing is best handled by experts—and Independent Printing & Packaging has stayed on the cutting edge in all aspects of print and design technology.
Featured Presentation Printing Products
Browse through a selection of our most recent presentation printing samples, below. We take pride in every project that runs through our facility. It is with great pleasure we "show off" a little with some of our favorites.
With such a wide array of options, you can be sure we'll find a solution that fits your needs perfectly. Your presentation printing project is important. Let us take the worry out of it—talk to one of our Business Development Manager today to get started on your next successful project!
We also keep a wide variety of printed product samples made with different papers and finishing techniques. Start with the right stock and you'll make it great!