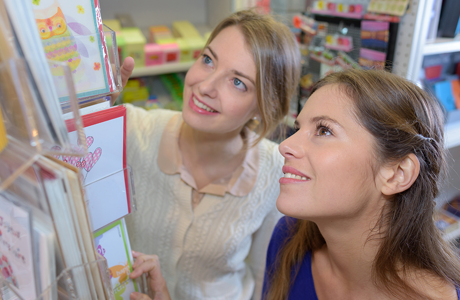 Let's create together!
You have the expertise to create stunning and clever designs. Entrust your art to the Greeting Card Printing Specialists. We produce for big names in the greeting card industry and understand the value of making an immediate impression with your product. Allow us to take your design to completion with detailed finishing techniques and unique processes. We oversee every last detail and capture your personal style in each card.
Let's chat about our process.
Image-quality and eye-catching finishing work help determine whether your greeting cards and stationery items fly out of stores or collect dust on the shelf. Our company started with greeting cards—so one could say greeting card printing is the foundation of Independent Printing & Packaging. We've come a long way from greeting card printing in a converted garage. Technology, paper chemistry, special effects and embellishments, along with state of the art fulfillment services, have put Independent Printing & Packaging at the top of the game in high-quality greeting card printing.  As a printer that can foil and emboss in parent-size press sheets, we are truly unique and serve a specific niche with this uncommon capability!
Personal Greeting Card Printing
We start with helping you capture the heart and soul of your message and transform it into the perfect printed card. Sometimes we just listen to your story—how your business came to be and why. We hear you. And we want to help you succeed. In every story told, we always hear the dream of connection. Bringing your message together with another heart. Through greeting card printing, we can help build this connection with your customers.
We get excited hearing about the passion you have for your work. We commit to being your partner from concept to getting product on the shelf. You can trust Independent Printing & Packaging for your next greeting card printing project or program.
Business Greeting Card Printing
We work hard to make it simple for you to represent your business in just the right light—and for every occasion. Bring your program ideas to us and our team will help you bring your idea to market.