Using state of the art digital printing technology means your marketing efforts will be maximized to the fullest. Our variable data printing software is an industry workhorse. Independent Printing & Packaging uses XMPie software to create stunning customization and memorable personalized images and charts. You'll see measurable results on your next collateral piece or advertising campaign with variable digital printing.
Results!
Variable digital printing is proven to generate a higher "open rate" for direct mail, and generate increased order values as well. Think post card mailings, calendars, custom-printed booklets, and more—we can show you how variable data will allow you to personalize your digital print jobs.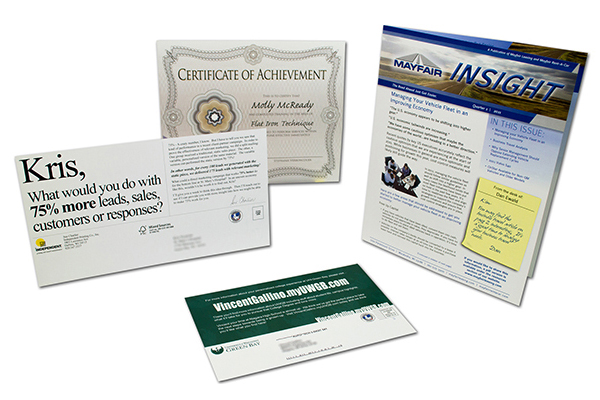 Did You Know?
Many email recipients hesitate to click a link due to phishing and viral risks. Personalized digital print services is a surefire way to get your message to your audience without the inherent risk associated with other forms of marketing.
Your Team!
Count on our specialists to provide a clear path to success on your digital and variable production projects.   As your digital printing partner we offer:
Strategy and marketing consultative services
On-the-fly and one-off design capabilities
Data procurement, data mining and evaluation
Cross-media marketing via personal URLs (PURLs)
Real-time ROI tracking and lead follow-up
Full-featured fulfillment system targeting 24-hour turn-around
Mailing Services
From beginning to end, we help you set up your project files, and even offer mailing services. Through our digital print services, we handle small- to mid-size mailings in-house. We provide list prep services like CASS certification, de-duping and NCOA review.
As you can see, we're more than a traditional printer; we're your marketing partner. Contact us to discuss your next project or program. You can be confident when choosing digital printing for your next job.
*Source: Mail Print Research Study   **Source: DMA Factbook for 2013